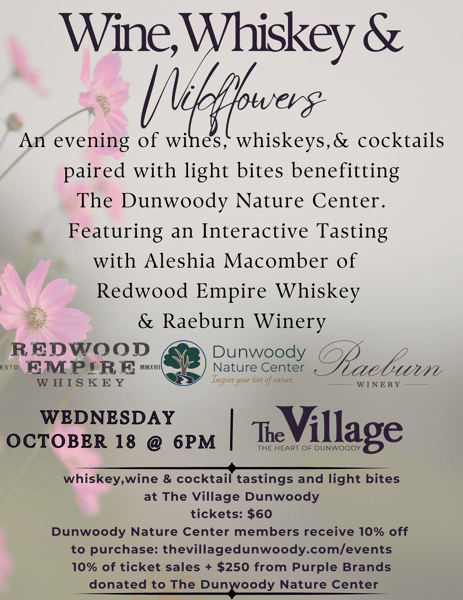 Wine, Whiskey, & Wildflowers
An evening of wines, whiskeys,& cocktails paired with light bites benefitting The Dunwoody Nature Center and Featuring an Interactive Tasting with Aleshia Macomber of Redwood Empire Whiskey & Raeburn Winery.

Redwood Empire Whiskey partners with Trees For the Future, a NGO responsible for planting over 250 million trees since 1989. Whenever customers buy any of Redwood Empire's premium, handcrafted whiskey—each named after iconic redwoods like Pipe Dream Bourbon Whiskey, Emerald Giant Rye Whiskey, and Lost Monarch, a blend—they plant another tree. With an initial goal to plant 500,000 trees by the summer of 2022, as the summer of 2023 arrives, they have now reached one million trees planted. 10% of ticket sales will go to the Dunwoody Nature Center.  

Tickets are $60 per person. Dunwoody Nature Center members will receive 10% off each ticket with a code.